Reading Time:
6
minutes
It's that time of day again: your child has returned home from school, tossed their backpack on the table, and wandered off to do whatever strikes their fancy. Homework has again gone forgotten. So how do you get kids to focus? It's no surprise that children with ADHD struggle with homework. All children do! They're tired after a long day of learning new things and being exposed to a lot of overstimulation. That said, someone has to do the homework eventually, so you need to get your child on track. ADHD and homework do not have to be an impossible combination. We're here to help you and your child out. Read on to learn all about strategies to help with homework completion (or even getting started) for children with ADHD.
Read more: 5 Homework Tips for Parents of Children with ADHD
Help Kids Focus With Reminder Tools
Some children (with or without ADHD) will try to hide their homework or just forget they have it. Children with ADHD often struggle with the idea of consequences, so they may not remember that hiding their homework will result in lower grades, or that if they don't act on homework soon, they might really forget later
Customize visual schedules that teach kids independence. No more nagging, no more stress.
Give Kids the Same Tools You Give Yourself
You probably use a reminder app on your phone or your calendar to keep up with life. Give kids the same ability with an app or paper planner. We recommend going digital, of course. Use screens in a healthy way with Goally – we even provide a distraction-free device so kids can focus on schedules, checklists, and reminders.
Checks and Balances
With so many schools putting schoolwork and grades online, it's easier than ever for parents to check and make sure that their children actually brought their work home with them. Set a reminder in your own phone to check. If you see homework on your child's schedule, ask about it. Ask your child about their work. If they claim not to have anything, check online to verify.
Help Kids Focus With Routine

Establishing a consistent schedule for your child's work is crucial for improving their focus and productivity. Children thrive when they have structured routines, even if they occasionally resist them. The optimal time for your child to do their work may vary depending on their individual needs and preferences.
For some children, it's beneficial to allow them some downtime after school to unwind. Engaging in physical activities or taking a brief nap can help them recharge before diving into their assignments. If you've been encountering challenges with ADHD and homework refusal, try pushing the homework time back by an hour to provide your child with an opportunity to decompress and transition smoothly into their work.
Read More: Free Printable ADHD Routine Chart
Create a Special Work Area
It's tough for any kid to focus on their homework when they're working from home, what with all the tempting distractions nearby. But for children with ADHD, these distractions can feel like a total nightmare. From pets to toys to TVs, anything can steal their attention away from their work in an instant.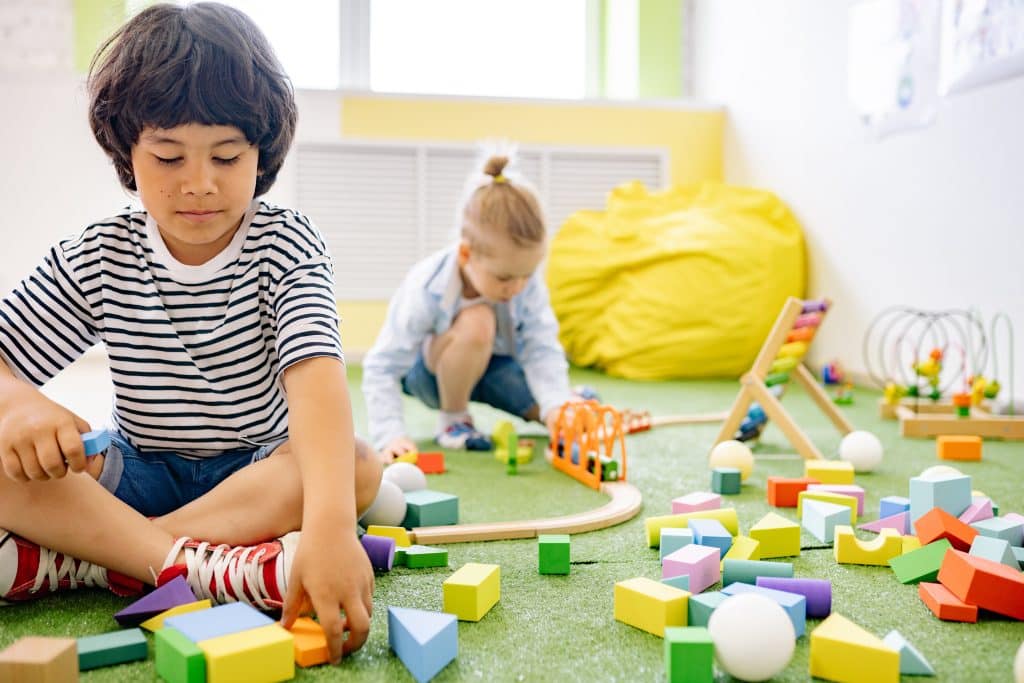 Read more: Apps for Homeschool
To help your child stay on track, consider setting up a designated homework space that's free of distractions. It doesn't have to be anything fancy – just a small desk or table with a few supplies will do. This can help your child get into "work mode" and stay focused during homework time.
When choosing a spot for the workstation, aim for somewhere quiet and free of distractions. Loud noises or visual distractions can easily derail your child's concentration, so try to avoid setting up near windows that face a busy street or playground.
Stay Nearby
It's always best for parents to stay near their children when they're doing their homework. For children with ADHD, it's extra important. First, your child might need help. If your child knows that you're nearby, they'll feel more confident calling out to you for help instead of just skipping the homework assignment. When you're nearby, you can also keep an eye on your child to make sure that they're staying on-task. If you notice that your child is starting to wander, you can intervene.
Read more: Fidget Toys for ADHD: Do They Help?
Schedule Breaks (if Necessary)
Speaking of intervention, intervening doesn't mean that you make your child start working again. They do have to finish their homework, but it might be better for them to have a short break if they've been struggling for a long time. Taking breaks can increase your child's focus. If they're working on something too challenging, a short break can be enough to give them the burst of energy that they need to keep going. We recommend 15 minutes or less of break time. Try to get your child to do something physical, like a brief walk outside or a short game of hopscotch.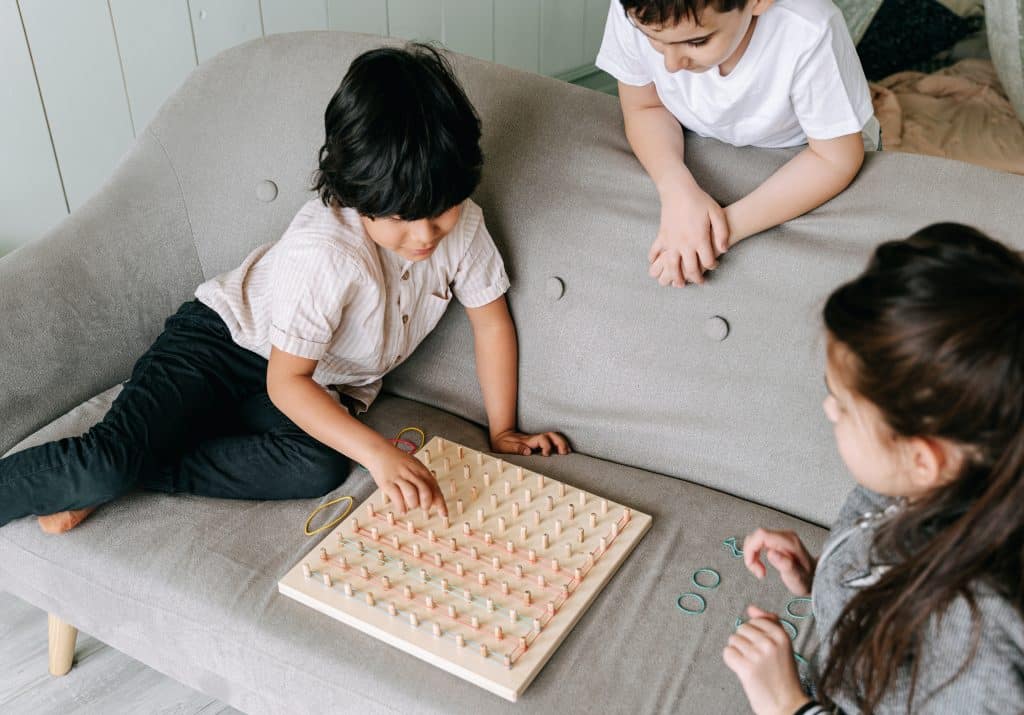 Helpful Supplies for Homework Time
All of your child's supplies should be available to them at their "work station." But what do they need? First, make sure that they have all standard school supplies. Pencils, crayons, erasers, pens, and anything else that you would have bought for them at the beginning of the year should be nearby.
It's a good idea to have several labeled document bins or folders where your child can place homework that they've finished and homework that they haven't started yet. This can keep your child more organized. We recommend having a few "extras" that can help your child stay on task. If your child does well with fidget toys, slime, or movement items (like a yoga ball, for example), include those things in the child's work area.
Using a Reward System
We all know that homework can be a real drag for kids. If you're trying to keep your child motivated and engaged, consider starting a reward system. After all, let's face it – homework is just plain boring! One effective approach is to make "homework time" a regular part of your child's schedule, and offer rewards for finishing on time or completing assignments early. Kids focus is often motivated by the promise of rewards, so this can be a great way to keep them on track.
And if you're looking for an easy way to track your child's progress, check out Goally. With its built-in timer, you can keep tabs on how long your child is spending on each task. After that, you can reward them accordingly when they hit their goals.
ADHD and Homework: Your Child Can Focus With the Right Tools
ADHD and homework might seem like an impossible combination, but with the right strategies and tools, your child will coast through all of their homework with ease. Mix and match these ADHD and homework tips and see your child start to thrive! Are you looking for something new to add to your neurodivergent child's toolbox? Get Goally! Goally can help your child establish and follow a routine and you can reward them for it! Your child gets access to behavior tracking, visual scheduling, and more. Check out our pricing plan or try a free demo today. We know that you'll love it.
FAQs About How To Get Kids To Focus
What are some common distractions that kids face while trying to focus on their work?
Kids can face a variety of distractions while trying to focus, such as technology, noise, hunger, or fatigue.

How can parents create a distraction-free environment to help their kids focus?
Parents can create a designated homework space that's free of distractions, turn off electronic devices, use noise-cancelling headphones, and ensure that their child is well-rested and fed.

What are some strategies that can help kids with ADHD stay focused on their work?
Strategies that can help include breaking down tasks into smaller, more manageable parts, using a timer to keep track of work sessions, using fidget toys to occupy their hands, and taking frequent breaks to move around.

How can technology be used to help kids stay focused on their work?
There are various tools and apps that can be used to help kids with focus, such as noise-cancelling headphones, distraction-blocking browser extensions, and productivity apps with built-in timers or goal-setting features.

How can parents help their kids develop good study habits and routines?
Parents can encourage their kids to establish a regular study schedule, provide positive reinforcement for good habits, and model good study behaviors themselves.
This post was originally published on 02/17/2022. It was updated on 06/13/2023.