Reading Time:
4
minutes
About 17% of kids ages three through seventeen have one or more developmental disabilities. Getting the proper diagnosis and support for your child with any condition can be challenging. The faster you learn about your child's specific needs, the quicker you can help them access the resources they need to be successful. Below we'll look at autism vs Down syndrome to clear up some confusion you're facing. Read on to learn more!
Autism vs Down Syndrome | Differences
While ASD (Autism Spectrum Disorder) and Down Syndrome share some crossover, they're not the same. The causes and symptoms are quite different.
Autism (ASD)
Autism is a neurobehavioral and neurodevelopmental condition with a broad spectrum. People diagnosed with autism experience a range of symptoms; it's not a one-size-fits-all disorder. Those with autism vs Down syndrome generally have difficulties with social communication and interaction. They also struggle with repetitive or restricted behaviors and interests.
In children, this can show up as:
An inability to maintain eye contact
Not responding to their name
Not showing facial expressions
Repeating words or phrases
Flapping hands or other stimming behaviors
Getting overstimulated by environmental stimuli
Goally | Visual Scheduler for Autism
Does your child struggle with getting ready in the morning independently? Goally's routine app on the best tablet for kids breaks down large tasks into small, achievable steps for autistic kids. Create custom routines with your own videos & pictures for every step.
Read more: What Is Autistic Burnout?
Autistic children also usually have delayed language, movement, and learning skills. They may present inattentive behavior and are prone to epilepsy and seizure disorders. Because autism exists on a spectrum, it can be hard to diagnose. Some people without a proper autism diagnosis may not know why they've felt different their whole life.
However, it's possible to receive a diagnosis as young as two. It's worth noting that there aren't usually physical traits associated with ASD. With autism vs Down syndrome, autism could be the result of many factors relating to genetic and non-genetic elements.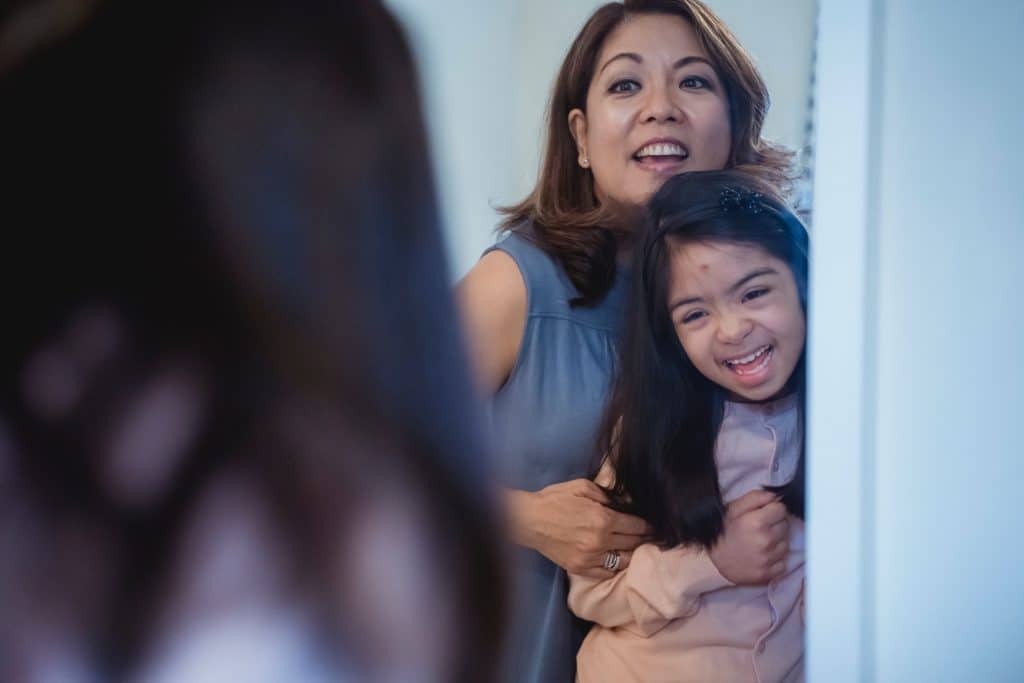 Read more: Free Printable Autism Behavior Charts
Down Syndrome (DS)
A significant difference between autism vs Down syndrome is the cause. DS is a chromosomal disorder. The presence of an extra chromosome, Chromosome 21, is the cause of DS. Down syndrome is also known as Trisomy 21. How many copies of the chromosome determine the type of DS diagnosed.
The three different types of Down syndrome are:
Trisomy 21
Translocation Down Syndrome
Mosaic Down Syndrome
DS causes apparent physical features; they can diagnose when a child is still in the womb. Because it's a genetic disorder, doctors can run genetic tests on the mother during pregnancy. Similar to autism, DS varies in severity. When it comes to autism vs Down syndrome, most children with Down syndrome have mild or moderate cognitive impairment. Usually, they experience language development delays. Unlike autism, people with DS don't struggle with social cues and are generally very sociable.
How Goally Helps With Autism and Down Syndrome
Goally is a versatile tool that can provide significant support for children with Autism and Down Syndrome. For children with Autism, Goally's interactive video classes and visual schedules can help enhance their social and communication skills. It breaks down complex tasks into manageable steps, making learning more accessible and enjoyable. For children with Down Syndrome, Goally's reward system can motivate them to learn new skills and behaviors, while the AAC Talker can assist with communication challenges. By catering to the unique needs of each child, Goally aids in their overall development and growth, making it a valuable companion for parents navigating Autism or Down Syndrome.
Autism vs Down Syndrome | Comorbidity
Yes, you can have a dual diagnosis. It's more challenging to diagnose a child with Down syndrome with ASD, but it's possible to have both. About 20% of those diagnosed with DS also have ASD. Their symptoms may present in different ways but most likely are the same as listed above.
Read more: What Is Autism Camouflaging?
Autism vs. Down Syndrome: Takeaways
While autism and down syndrome share a few traits, such as developmental issues; they're very different conditions. They can be comorbid conditions, but having one doesn't mean you have the other. It's important to remember that having an early diagnosis is beneficial to ensure your child gets the proper support to set them up for success!
Read more: Autism Statistics in 2023
Kids with autism don't do well with changes in their routines. Parents can structure their child's day with Goallys visual schedule app. It shows kids exactly what's happening throughout their day, so no unexpected activities cause meltdowns. Does your child with autism have frequent outbursts?
Goally | Apps To Support Child Development
Looking for fun ways to help your child learn life skills? Try Goally! Our suite of apps helps kids develop the skills they need to become independent with FUN & evidence-based practices. You can use our visual schedule app to structure your child's routines or teach them new skills!
Our apps teach executive function, language, emotional regulation, finger dexterity skills, and more.
As your child develops new skills, you can increase the difficulty level of the tasks in the app to challenge and motivate them even further. This helps your child grow and progress at their own pace, while also keeping them engaged and excited about their development.
Customize Goally's kid's tablet starting at just $9
While both Autism and Down Syndrome are developmental disorders that can impact a child's life, they are distinct in their causes, symptoms, and management strategies. Autism is primarily characterized by challenges in social interaction and communication, while Down Syndrome is a genetic disorder that affects physical features and cognitive abilities. Understanding these differences is crucial for providing the right support and resources for a child with either condition. Every child is unique, and their potential is not defined by their diagnosis but by the love, understanding, and support they receive.
This post was originally published on 12/14/2022. It was updated on 11/18/2023.